Are you looking for election results? If so, here are all our election results.
May 22, 2018 Primary Elections
NOTE: Your ballot will vary based on your residence location!
Your ballot MIGHT look different than this one!
More info available at
Forney Votes
.
Polling locations are listed below
Photographic Voter ID now required!
Leave your cell phone in your car! According to State Law:
Sec. 61.014. USE OF CERTAIN DEVICES.
(a) A person may not use a wireless communication device within 100 feet of a voting station.
(b) A person may not use any mechanical or electronic means of recording images or sound within 100 feet of a voting station.
Forney Area Voters
(MOST voters will have these options; all sample ballots shown below)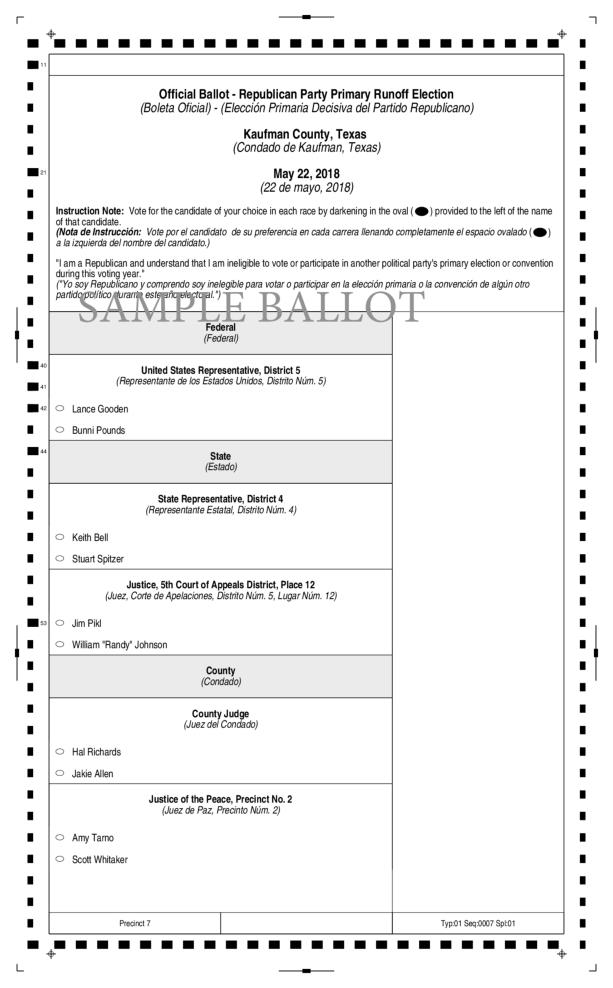 Rep. US Rep, District 5

Lance Gooden
Bunni Pounds

Rep. State Rep, District 4

Keith Bell
Stuart Spitzer

Rep. Justice 5th Court Appeals, Pl 12

Jim Pikl
William "Randy" Johnson

Rep. County Judge

Hal Richards
Jakie Allen

Rep. Justice of the Peace, Pct. 2

Amy Tarno
Scott Whitaker

---

Dem. Governor

Lupe Valdez
Andrew White





Early Voting -

All three sub-courthouses: May 14 - 18 (Mon-Fri), 8A - 5P with extended hours 7A - 7P on Fri May 18.

Kaufman Courthouse Annex: May 14 - 18 (Mon-Fri), 7A - 7P

Locations: 
      1. Kaufman County Courthouse Annex 
         100 N. Washington St.  
         Kaufman, TX 75142       
      2. Forney Sub Courthouse
         200 E. Main St.
         Forney, TX 75126
      3. Terrell Sub Courthouse
         408 E. College St
         Terrell, TX 75160
      4. Kemp Sub Courthouse
         103 N. Main St.
         Kemp, TX 75143


Voting by Mail: Mail-in ballots should be sent to the address below.

Brenda Samples
Early Voting Clerk
Kaufman County Courthouse Annex
P.O. Box 339
Kaufman, Texas 75142
---
NOTE:
the information provided here is
NOT
official, it is provided for your convenience. The official data is available at
Kaufman County
.